Kyushu Secrets: Uchinomaki Onsen Day Trip (Aso, Kumamoto)
Guide to the nostalgic hot spring town inside a volcanic caldera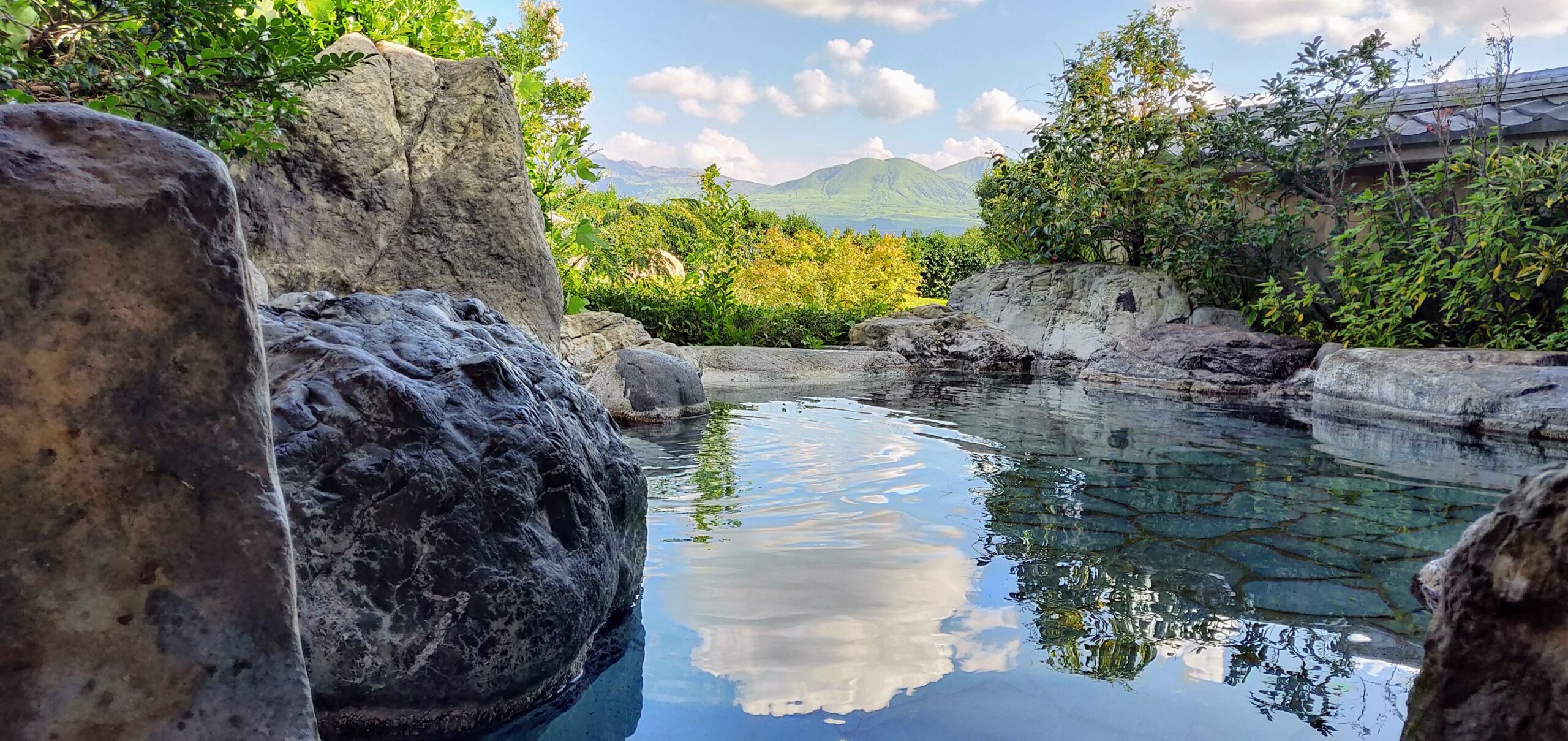 Geography plays a large role in the way that human communities and societies organise themselves. It's kind of a truism, but it can be interesting to observe the more extreme examples. Uchinomaki is an onsen town situated inside a volcanic caldera in Kumamoto Prefecture, whose residents lives have been shaped by this unique geography for generations. If you're planning a trip to Aso in the future, this information is for you!
If you have lived in or visited Kyushu for any length of time, you will be aware of the Aso region and its massive, heavily populated inland caldera. You may even have paid a visit to Daikanbo, which is probably the most common place for visitors to take photographs of the caldera interior and the volcanic peaks.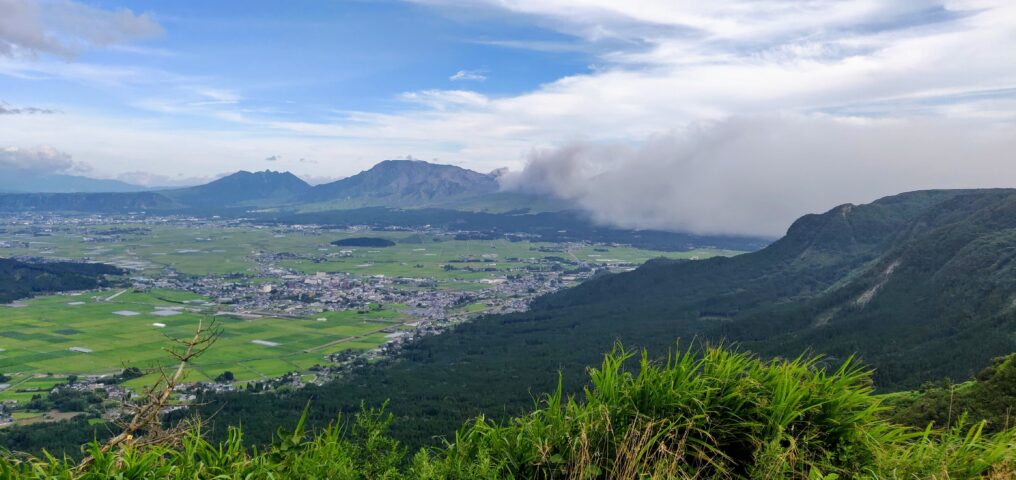 As fantastic as this view from Daikanbo is, for most visitors it's just one brief stop on a longer trip to other popular destinations such as Kurokawa Onsen, Nabegataki Falls or Kusasenri. I think that's a shame, because just a few hundred meters below the lookout, there's a sizable community making this little corner of the caldera their home—Uchinomaki Onsen. 
Determined to document this area for any potential day-trippers, cyclists, or anyone considering a visit to the area for any period of time, I took upon myself the task of enjoying a leisurely lunch, stroll and hot spring bath in the area, in order to find out as much as I can and create a useful source of information for anyone planning to visit.
Location
The Uchinomaki Onsen area is located at the narrowest point of a horseshoe-shaped indentation in the northern section of Aso's caldera wall. The cluster of businesses, restaurants, hot springs, temples and shrines that comprise Uchinomaki Onsen is clearly visible from the Daikanbo lookout point, but the geography is equally striking when seen on Google Maps.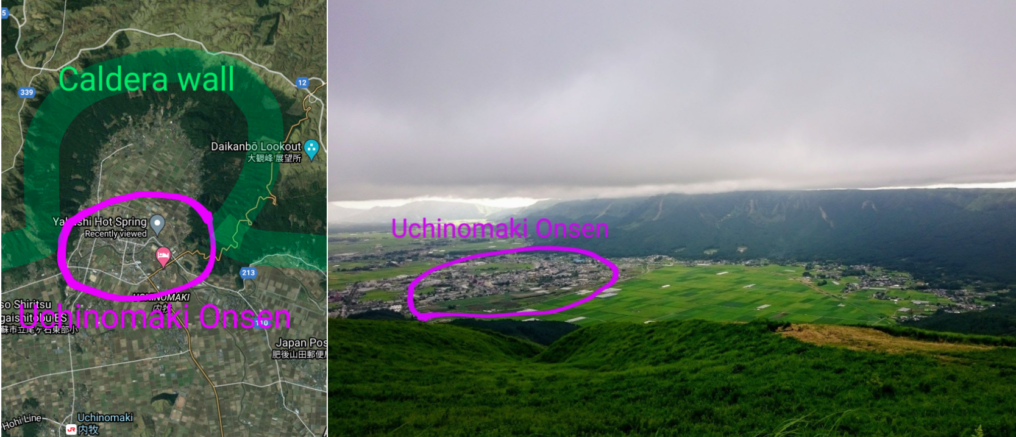 Many domestic tourists from other parts of Japan stay in accommodations here, since it's a convenient and centrally-located base from which to explore the rest of the Aso area. It's also compact little onsen town in and of itself, with plenty in walking distance, so once you've arrived it's nice to walk around and explore the area. I drove into Uchinomaki from Kumamoto City, but you can take a train or bus or even cycle (using one of the free rental bikes available at JR Aso Station or Daikanbo).
Food
After arriving in the area, my very first objective was to get lunch. There are many places to eat in the area (see the annotated map below!) but the restaurant with by far the most name-recognition locally is Imakin Shokudo. The century-old establishment serves Akaushi Don, a beef and rice bowl topped with slices of grilled Akaushi beef. In contrast with other wagyu breeds, Akaushi are characteristically very lean, and are brought up grazing Aso's volcanic grasslands. In fact, Aso is the only place in Japan with free-grazing cattle.
In order to avoid crowds I reserved my Akaushi Don for takeaway on my phone using the 'Catch Meal' service. I'm glad I did—just look at the number of people waiting outside!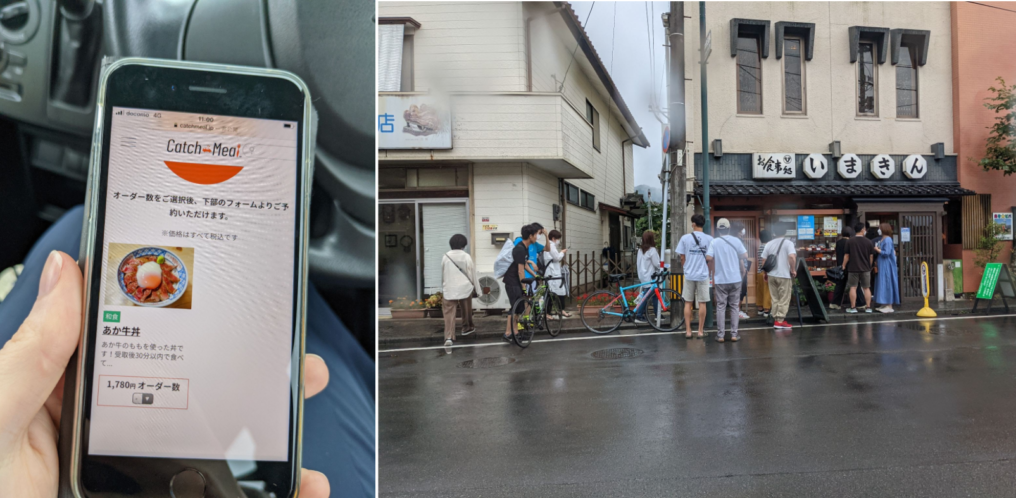 With my lunch in tow, I can now eat  anywhere I like and give the crowd a wide berth. It was a little rainy, but I am not made of sugar, so I decided to eat at the Sorafune Pier lookout area. 

If you're looking for a noodle-based option, Baton Ramen serves a very unique ramen whose soup base and toppings are made from a combination of both pork and horse! On a previous visit to Uchinomaki Onsen back in 2019, I enjoyed the shoyu ramen topped with chashu and a soy-sauce braised pulled horsemeat, together with deep fried horse-meat gyoza. Raw horse meat, or basashi, is a local Kumamoto specialty, but this is the first time I had ever seen it incorporated into other dishes.

Geography, History, and Hot Springs
Although the onsen town is not very well known outside of the region, it doesn't require too much imagination to figure out why there might be hot springs here, given we're inside the largest inhabited volcanic caldera in Japan.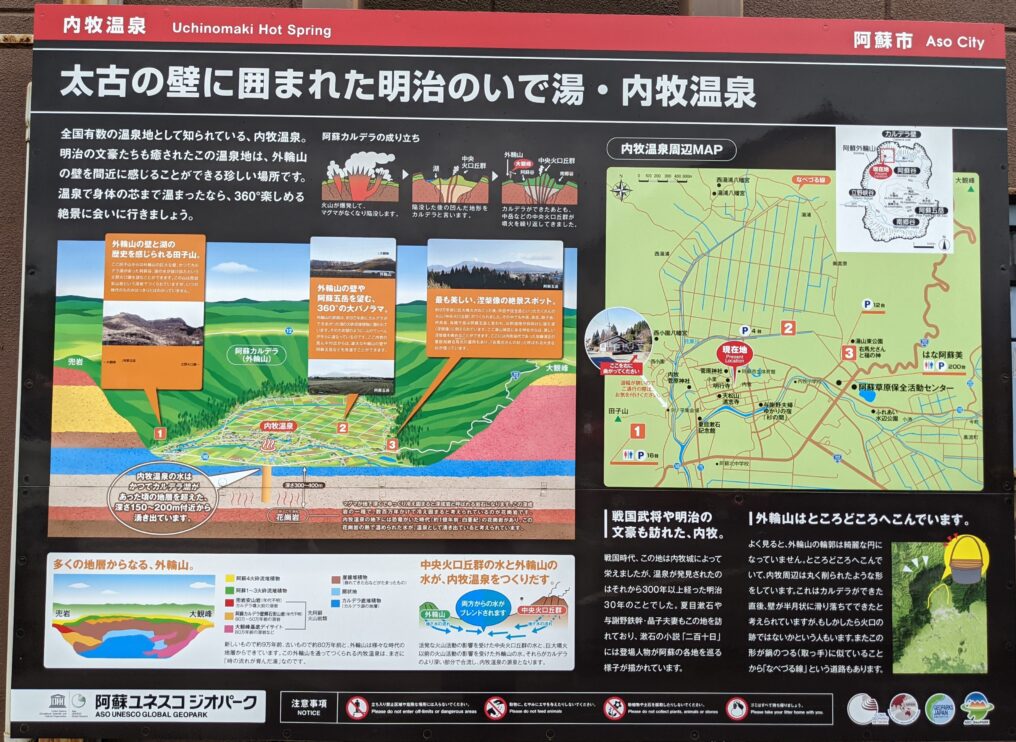 A sign posted in the middle of town explains how the groundwater flowing from the outer caldera wall converges with groundwater flowing down from the central volcanic cone, pools underneath the caldera, and combines to form Uchinomaki's hot spring source. Just 400m underground, there is a layer of granite which is still hot enough to heat up the groundwater. By the time it reaches the surface, the water is 45.9°C (114°F). In addition, since the hot spring is essentially mountain rainwater that is filtered through fine-grained volcanic rock and warmed up by the hot granite bedrock below, Uchinomaki's hot spring water is very clear, and also drinkable. Many of the onsen establishments have signs encouraging guests to try drinking the water.
The Uchinomaki area originally developed as a minor castle town during the Sengoku period (you can still visit the castle ruins today). The hot springs were discovered in 1897, and were visited by Japanese literary figures such as Natsume Soseki.
Ryokan and Machiyu
It will come as no surprise that this town is home to over twenty hotels and ryokans, which take advantage of the great location. Some hotels also allow visitors to enjoy their baths without staying overnight, such as this outdoor bath at the Aso Plaza Hotel.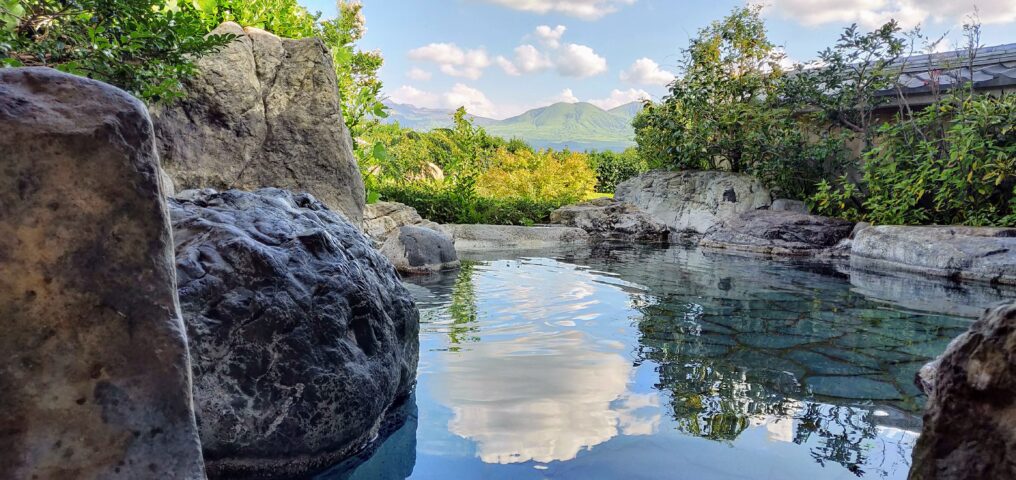 In addition to these larger-scale accommodations for visitors, there are 6 bath houses known as 'machiyu' dotted across the town, which are inexpensive (between 200 and 500 yen) and are frequented by locals who live in Aso City. Machiyu patrons usually take their own bath goods such as towels, body soap and shampoo in a small bag with them, but if you happen to forget yours, some Machiyu proprietors sell these amenities for a small fee. I've included all 6 machiyu in the annotated map below. 
I visited the machiyu called 'Yakushi Onsen' (pictured below). Although I can't show you the inside (you can see those pictures on Google here), I felt incredibly relaxed and refreshed afterward!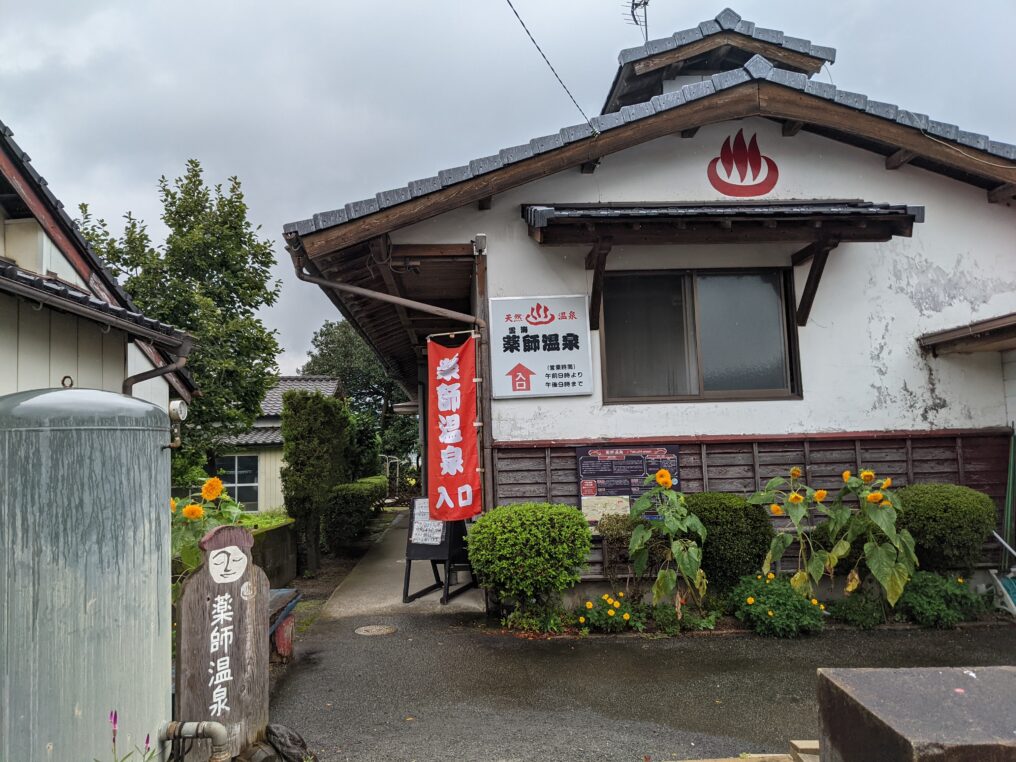 Showa-Era Nostalgia
Another prominent feature of Uchinomaki Onsen's business district is the number of shops invoking the aesthetic of the post-war Showa period (1950s to 1980s). Some of the nostalgia is highly self-conscious, such as at 'Chirorinmura', a dagashiya (traditional Japanese sweet shop for children), which plays nostalgic-sounding children's songs onto the street and is decorated both on the inside and out with numerous Showa-era billboards and products.
I went in to buy some sweets, but was surprised at the sheer number of other Showa-era items on display. You can even sit down and play on an NES or SNES (100 yen for 10 minutes). In the evenings, they apparently even have a special 90-minute course of all-you-can-eat Showa candy, Showa coffee and Showa drinks.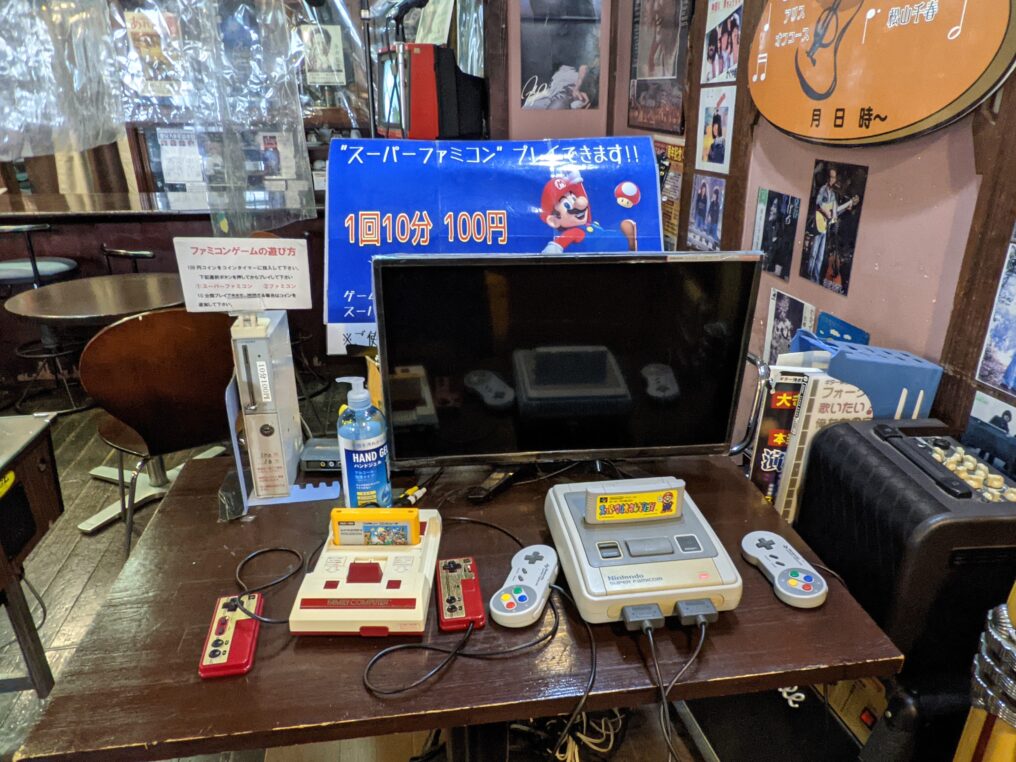 Many other establishments in the Uchinomaki Area heavily employ this Showa aesthetic. Some of it is unintentional, such as the local post office, banks, clinics and drugstores built during that period. Some of it is surreal, such as this display piece in the centre of town with a type of chair still commonly used in Japanese public schools.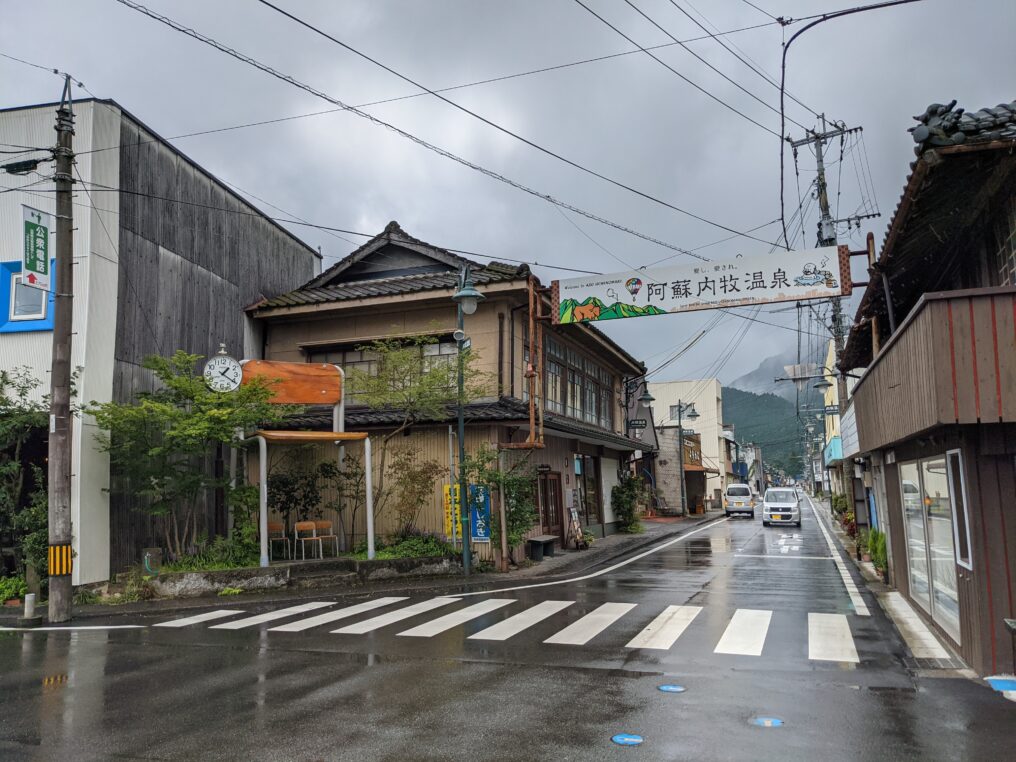 Just like the sweet shop, some of it is just pure Showa-themed escapism, such as the retro izakaya 'Murakami Shoten'.
Shrines and Temples
Having been continuously inhabited for centuries, long before the emergence of hot spring retreats or Showa nostalgia, there are also a great number of shrines and temples in Uchinomaki. Although I am sure there are larger and grander ones in Kyoto, the temples in Uchinomaki, such as at Myokoji Temple (below) have much less foot traffic and are much calmer and quieter.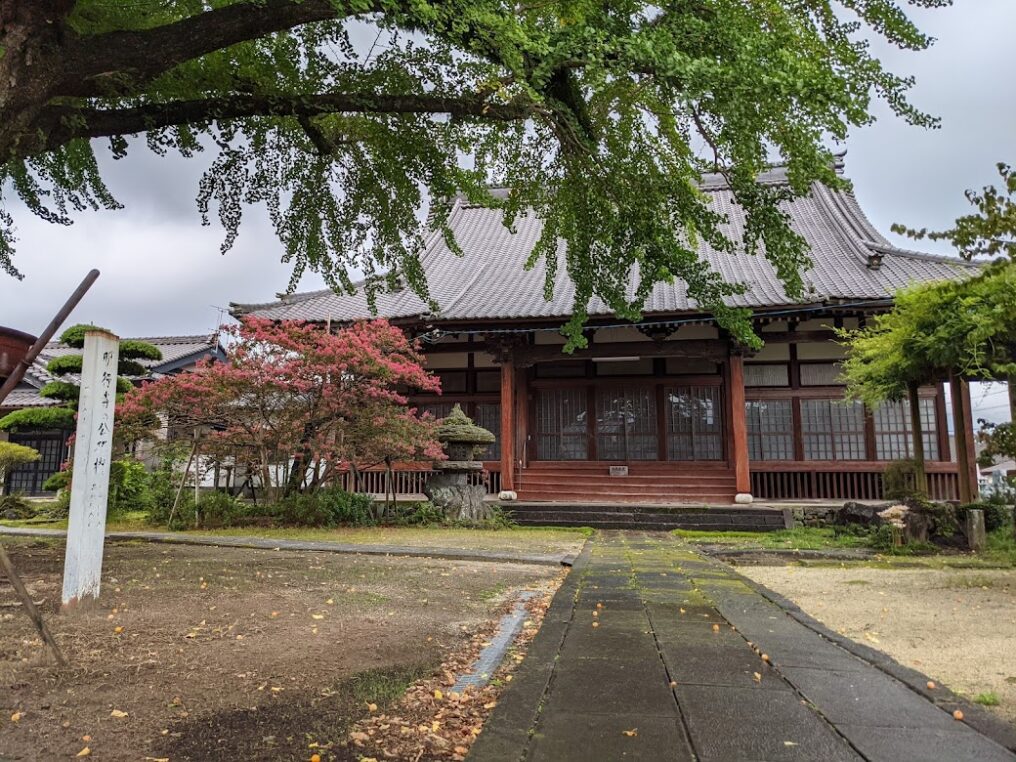 In addition to the temples and shrines located in the central part of town, there is also a ring of shrines that seem to follow the outline of the caldera wall.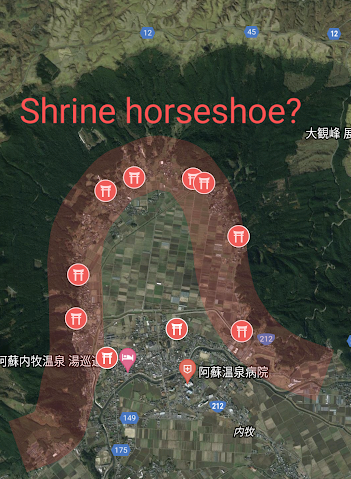 I didn't manage to visit these, but it looks like it would be nice to just walk or cycle around the horseshoe to each shrine for an afternoon. Maybe on my next visit! 
Annotated Map of Uchinomaki Onsen